Since our founding in 1949, we at Yamamura Photonics have developed our business based on the glass material technology cultivated in glass products for vacuum tubes and the metal-glass joining technology (GTMS: Glass To Metal Seal). Based on this accumulated technology, we have made progress in technological innovation from vacuum tubes to semiconductors. We have contributed to society by providing various parts that support the combination of light and electronics. As a result, our business consists of three major fields as described below:

(1) glass parts for electrical and electronic equipment, medical and infrastructure.
(2) optoelectronics packaging parts.
(3) substrate materials for semiconductors and electronics.

In recent years, new technologies and products are making progress at a tremendous speed in the market of semiconductors, information, and communications, automobiles, etc., which are our main business fields. Therefore, it becomes more important that we can quickly detect a sign of changes in society to provide new technology and products suitable for the changing society. Also, we will review the existing methods once again to provide products and services that further satisfy our customers and to continue to make Yamamura Photonics a "responsible" and "reliable" existence.
With the slogan of "Let's be reborn," we will continue to aggressively and boldly address the complicated issues in the spirit of "Change and Challenge." Please look forward to Yamamura Photonics, which continues to make the challenges of developing and manufacturing unique parts and materials that combine "light and electronics" by connecting the "knowledge" of glass materials and the "skills" of glass processing.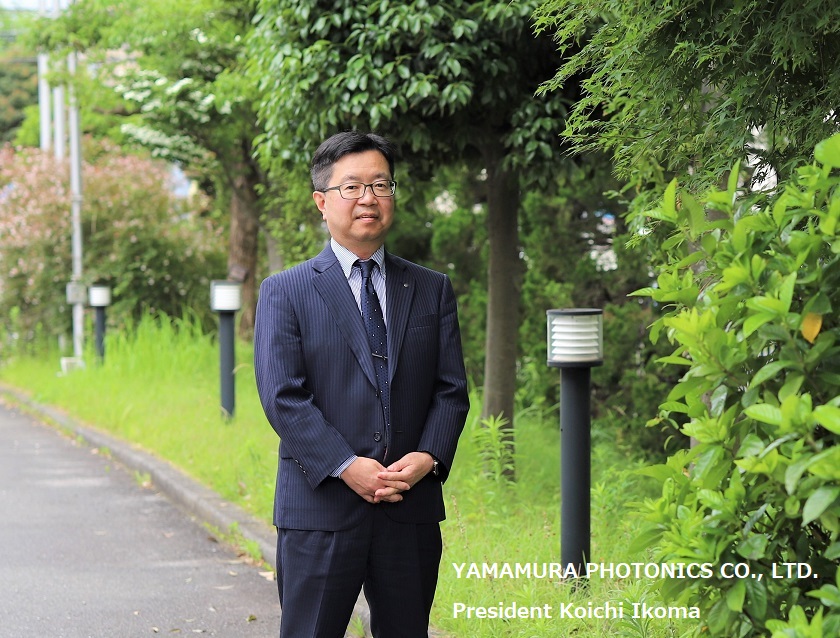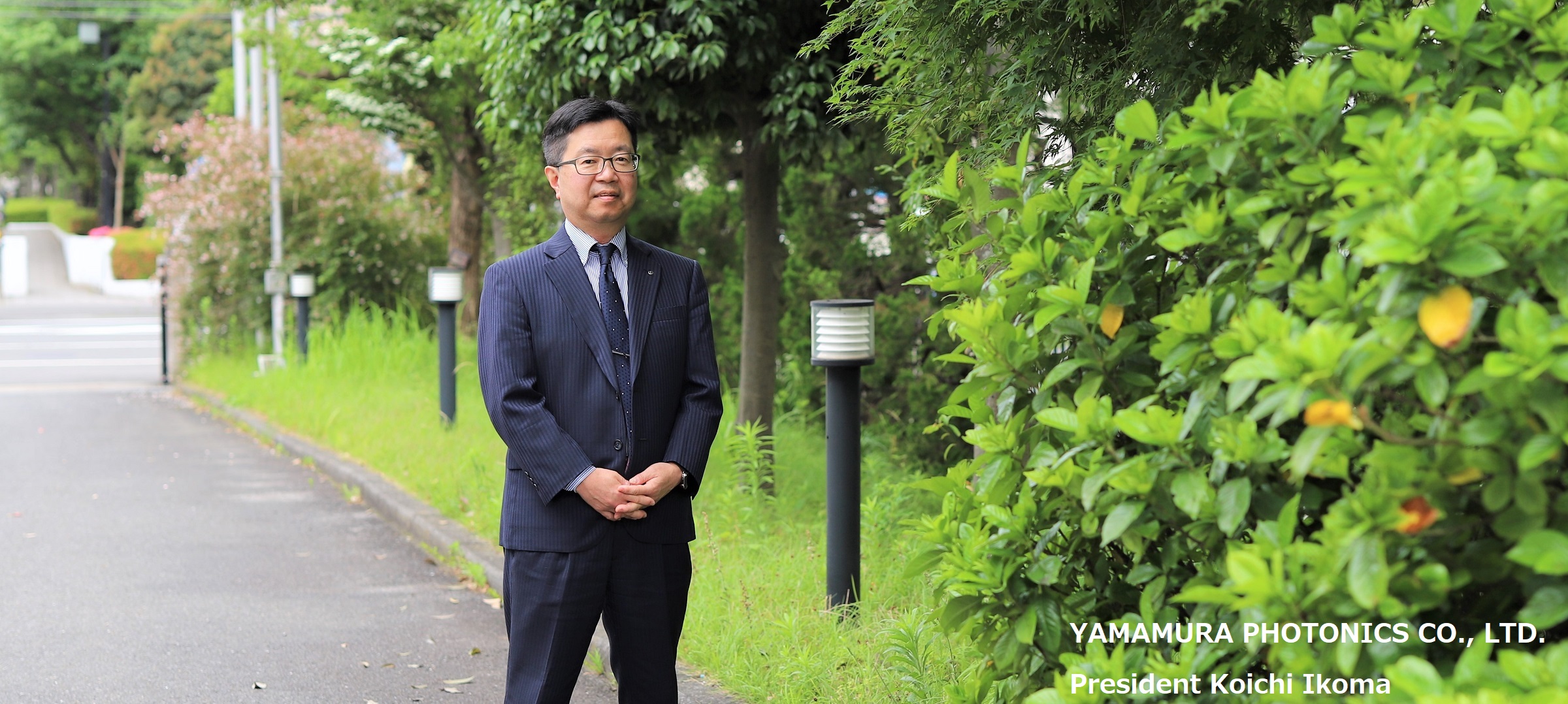 We at Yamamura Photonics will change impossible possible in the future while walking with our customers.
Yamamura Photonics takes advantage of its compact organization and supports customer development from the initial stage with its mobility and flexible responsiveness.
Aiming to be a development-type company, to realize speedy development in the electronics field where market changes and technological development are remarkable, we will help customers realize their ideals by supporting customized designs from small lots.
At Yamamura Photonics, we started with glass-metal joining technology, and through many years of experience and accumulated knowledge, we have created a wide range of core technologies such as glass ceramic material technology and small component assembly technology.
By combining these technologies, we will meet the needs of our customers and contribute to the expansion of various markets such as communications, medical, automobiles, and industrial equipment, and contribute to the development of technologies by actively working on new products and technologies.
Based on the basic principles described below, we Yamamura Photonics have established our own "Quality Philosophy" and "Quality Policy".
'Business rests on Our People' 
'Quality is the Key to our Business'
'There is no Future without Innovation'
Quality Philosophy
Yamamura Photonics focuses all business activities on customers and aims for customer satisfaction.
Quality policy
1. We anticipate customer needs and provide products that meet customer and regulatory requirements.
2. We will review our quality management system and continuously improve its process.
3. We set quality targets, review them, and strive to achieve them.
4. We will actively participate in activities in line with this policy.
Yamamura Photonics is working to improve various qualities such as human skills, product performance, and manufacturing processes.
We are aiming for quality that exceeds customer expectations and always maximizing customer satisfaction.
Acquisition of ISO9001 certification
Since Yamamura Photonics acquired ISO9001 in 1998, we continue our efforts to improve the quality throughout the company based on the global standard of quality management.
Quality Management System registration information
Registration  Japan Quality Assurance Organization
NO      JQA-2417
Organization  Yamamura Photonics Co., Ltd
Initial Date   12, JUN. 1998
Yamamura Photonics aims to sustainable recycle-based society living in harmony with nature.
We comply with all laws related to the environment and promote environmental activities such as reducing environmental footprints, trying to achieve zero emissions, developing environmentally friendly products, and awareness-building activities for employees.
Environmental Philosophy
Yamamura Photonics contributes to the realization of the society and the environment where we can enjoy the rich blessings of nature eternally through production activities designed to reduce the impact on the global environment.
Environmental policy
1. To improve the environmental performance, we will maintain the appropriateness and validity, the effectiveness of the environmental management system, and will promote continuous improvement.
2. We will comply with environment-related laws and regulations and other agreements with stakeholders.
3. We will set environmental goals and continuously improve our environmental conservation activities.
4. We will working on resource-saving, energy-saving, waste reduction, and recycling, through all business activities including glass processing for optical communication and electronic parts.
5. We will promote the provision of environment-friendly products and the proper management of chemical substances contained in products.
6. We will strive to prevent environmental pollution and will work to protect biodiversity and ecosystems.
7. We will provide education and training to all employees of our company so that they will act by following this policy.
Acquisition of ISO14001 certification
Since YAMAMURA PHOTONICS acquired ISO140002 certification in 2000, we have continued efforts to reduce the effects on the environment in the entire company based on the global environmental management standard.
Quality Management System registration information
Registration  Japan Quality Assurance Organization
NO      JQA-EM0722
Organization  Yamamura Photonics Co., Ltd
Initial Date   12, JUN. 1998
Trade name

YAMAMURA PHOTONICS CO.,LTD.

Formed

March,14,1949

President

Koichi Ikoma

Capital

50 Million Yen

Business

Glass material and glass component manufacturing
Ultra violet, Infrared window processing
Glass processing for electron tubes
Glass ceramic, green sheet manufacturing
Opto electronics module components manufacturing
Opto device packaging component manufacturing
Surface finishing, plating for electronic components
Head office and factory

ZIP:224-0053

4207 Ikonobecho, Tsuzukiku, Yokohama, Japan

TEL: +81-45-930-1811

Access by train

10 minutes walk from JR Kamoi Station

Access by car

5 minutes drive from the Kouhoku I/C of 3rd Keihin highway

Yokohama factory

ZIP:221-0024

7-8 Ebisucho, Kanagawaku, Yokohama Japan

TEL: +81-45-441-8271

Access by train

15 minutes walk from the Shinkoyasu station

Access by car

5 minutes drive south bound from the Koyasu ramp of No.1 Metropolitan highway.
1943

Glass laboratory started as a part of Sumitomo telecommunication company in Kotoku, Tokyo.

1949

NEC Glass components formed as a independent company.

1952

Head office moved to nakaharaku, Kawasaki.

1980

Semiconductor laser packaging business started.

1989

Yokohama factory opened in kanagawaku, Yokohama.

1996

Head office moved to Tudukiku, Yokohama (current location).

1998

Quality ISO-9001, 9002 (JQA-2417 )certified.

1999

Glass ceramic business started.

2000

Environment ISO-14001 (JQA-EM0722) certified.

2010

Company name changed to Yamamura Photonics Co., LTD.
NIHON YAMAMURA GLASS CO., LTD
New Glass Company

Nihon Yamamura Glass Co., Ltd (NYG) is the parent company of Yamamura Photonics and the New Glass Company (NGC) is one of the business units of NYG. In advanced fields such as information and communication, environmental energy, electronics, automobiles, and lighting, NGC manufactures and sells inorganic materials such as powdered glass and glass paste, and so on. NGC is working on the development of new glass materials and inorganic materials through the composition development, tuning of composition, and the new application development tailored to customer needs with each division such as R & D, production, and sales cooperating.